We're Getting Mutants in the MCU - The Loop
Play Sound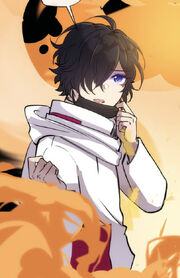 Neo Collins is the deuteragonist of Rebirth. He is the thirteen-year-old son of Noah Collins.
Appearance
[
]
Neo is a teenage boy with dark hair, covering his right eye. His eyes are navy blue and he has pale skin. He has a mole below his left eye, and usually wears a mask to cover his face. After Noah gifted him his red earring, he started wearing it too. His outfit changes quite often but he mainly sticks to dark clothing.
Personality
[
]
Neo has a cold personality, often shutting himself away from everyone and has only been seen opening up to his dog, Hail, that once used to be Abel's. This is a direct impact of his childhood experiences and the trauma he suffered from being shunned by his own family. It's been stated by Li that Neo is slowly and faintly showing affection towards Noah.
Background
[
]
From what we have seen in the series, Neo started off as a happy toddler. The first time Noah shunned him, was when he found out that Parish cheated on him with his own very brother, Ian. This happened around when Neo was still in kindergarten. Being quite young, Neo didn't understand well as to why his father who was so affectionate with him was suddenly giving him a cold shoulder. As he grew up, he finally understood, why his 'father' behaved that way. Finally accepting his own fate, Neo grew cold and shut himself off from his family and the world
Synopsis
[
]
TBA
Abilities
[
]
Red Earring
[
]
Neo possesses a red earring, which he received from Noah as a birthday gift. Using this earring, he can store any amount of goods into it magically without it occupying any extra space or weighing anymore, making it an extremely useful object.
Healing Ability
[
]
In the original rebirth Webtoon by 69Michi, Noah thinks it was Neo who healed him. Li says Neo didn't enter the room and Noah later finds out the real reason behind his healing, (spoiler) but it doesn't change the fact that in the future Neo is supposed to have a healing ability.
Core absorbtion
[
]
Neo posses the power, by eating the core of abnormal undead, to gain during a certain amount of time their power. He apparently can determine the power of a capacity by judging the strenght of the light that emit from the core.
Relationships
[
]
Noah Collins was thought to be Neo's father. Neo has been cold to him due to the past of Noah ignoring him all his life and he never really bonded with him as Noah once yelled in the past that Neo wasn't his son. In the previous timelines, Noah has assumably betrayed Neo more than once but Noah has only one memory of betraying Neo and regrets it deeply. When Noah suddenly started paying attention to Neo, Neo thought he was pretending and lashed out at Noah several times. He only started opening up to Noah a bit in the third season, openly showing concern when Noah was consumed by the plant, even injuring himself trying to get to Noah. Neo is almost always shown to be with Noah and comes with him on most missions.
Parish is Neo's birth mother. Neo refers to her usually as 'Old Hag'. From what has been shown so far, neither of them has a respectful relationship which each other. Parish has shown abusive behaviours towards Neo, threatening to kill him when he was younger and even raising her hand to hit him.
Abel is Neo's half-brother, at first was thought to be his birth brother. In reality, Abel is his cousin/half-brother.
Neo always disliked Abel, pretending to be the caring older brother for the first few years of Abel's life. All of this changed when they went to the amusement park. After being threatened by Parish, Neo purposely let Abel get lost in a room full of mirrors to see if Noah or Parish would actually care enough to look for Neo and not just Abel. They did not. Their relationship was never the same after that.
At first in the series, Neo was not at all fond of Abel, referring to him as a 'brat' and purposely causing problems between him and Noah. In season 3, their dynamic seems to have changed a bit and they seem to get along better. When asked why Neo was helping him, Neo responded with; "Because you are my brother." When Neo said he was leaving Noah's group, Abel was hurt and lashed out in anger.
Mr. Floofy McFlufferton the Third, aka Hail, is Neo's pet dog. It is said that it was originally Abel's, but has been neglected and so Neo took Hail for himself. So far, Hail is one of the only ones to receive some amount of fondness from Neo. He is seen taking care of Hail very well, including in asking for proper dog food.
It is Neo who gave Hail the ability to mutate into an undead wolf. He often sends Hail with Noah on missions to look after Noah since he is terrible at taking care of himself.
Trivia
[
]
His favorite cake flavor is matcha.[1]
Although it is still unclear how or why, Neo is aware of the world timeline being reset. He once mentioned to himself during an encounter with an intelligent undead that "this timeline is moving fast". He appears to know far more than what Noah thinks.
References
[
]